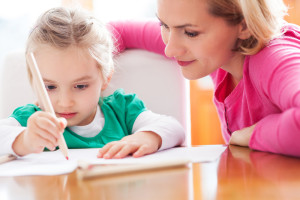 As we celebrate National Autism Awareness month, we'd like to share with you ideas for activities that help support children with autism.  Autism is an increasingly more common neurological condition that affects brain development. As such, children diagnosed with autism have more difficulty socializing with others, effectively communicating and responding appropriately to the environment around them. Are there activities that you can do with your child to help encourage effective communication and engagement?  Yes, read on!
If your child has autism, you know that it affects each child differently.  Children with autism possess a wide variety of skills, strengths, and needs. In addition to individualized therapy, there are simple, everyday activities that parents, teachers and caregivers can do to help support children with autism. We've put together a list of materials and fun activities that encourage social skills, and enhance communication for children with autism.
What kinds of activities and games are best?  An article in Science Daily, discussed the importance of play in children with autism spectrum disorders (ASD). "Children with ASD chose to engage in play that provided strong sensory feedback, cause-and-effect results, and repetitive motions," said Kathy Ralabate Doody, Ph.D., assistant professor of exceptional education at SUNY Buffalo State. Any opportunity to explore colors, shapes, textures and sensory experiences can help stimulate attention and create a sense of fun!