5 Awesome Activities for Children with Autism!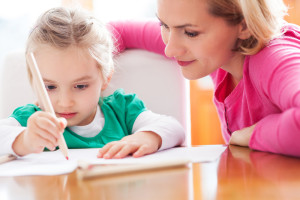 As we celebrate National Autism Awareness month, we'd like to share with you ideas for activities that help support children with autism.  Autism is an increasingly more common neurological condition that affects brain development. As such, children diagnosed with autism have more difficulty socializing with others, effectively communicating and responding appropriately to the environment around them. Are there activities that you can do with your child to help encourage effective communication and engagement?  Yes, read on!
If your child has autism, you know that it affects each child differently.  Children with autism possess a wide variety of skills, strengths, and needs. In addition to individualized therapy, there are simple, everyday activities that parents, teachers and caregivers can do to help support children with autism. We've put together a list of materials and fun activities that encourage social skills, and enhance communication for children with autism.
What kinds of activities and games are best?  An article in Science Daily, discussed the importance of play in children with autism spectrum disorders (ASD). "Children with ASD chose to engage in play that provided strong sensory feedback, cause-and-effect results, and repetitive motions," said Kathy Ralabate Doody, Ph.D., assistant professor of exceptional education at SUNY Buffalo State. Any opportunity to explore colors, shapes, textures and sensory experiences can help stimulate attention and create a sense of fun!
5 Activities for Children with Autism:
Paint with Ice: Education.com has tons of great ideas for kid on every level of the autism spectrum. This is one of our favorites. Using tempura paint, craft sticks and ice, kids can create their own unique masterpiece. This activity helps each child with color recognition, as well as what happens when he mixes two (or three!) colors together! Plus, your child works on his observation skills while watching paint go from a liquid state to a solid state, then back to liquid again.
Set Up a Smelling Station: Sarah Lipoff of education.com outlined this creative activity using small containers, rubber bands, fabric scraps and a variety of fragrant ingredients, such as cinnamon, lemon, etc.  Your child will engage his sense of smell in this fun activity, and he can share his activity with the rest of the family!
Shaving Cream and Water Beads:  Amanda, of the blog site Dirt and Boogers, shares a great idea that is all about texture! The combination of smooth and foamy shaving cream combined with small water beads is sure to be a big hit with your kids.  And, it's easy setup and cleanup.
Ocean Waves Sensory Bottle: Becka Robinson of Disney Baby posted this creative and and easy way to make an"ocean" inside of a water bottle. Made up of water, glitter, food coloring and baby oil, your child can shake the bottle and see a swirling ocean inside.  Think about making a few in different colors or adding different shapes to the water bottles!  Make a few and see what happens!
Sensory Gloves: Marnie Craycroft of Carrots Are Orange posted this is a creative way to use rubber gloves. By simply filling each glove with different household items such as kidney beans, sugar, corn, or rice, you child can experience different sensory sensations.  The creator of this activity suggests keeping it simple and not decorating the gloves or adding a smell.  Instead, let your child focus on one sense at a time.
Whatever activities you choose to do with your child, remember, keep it simple and fun!
More information about Autism, the Autism Society offers a very comprehensive website!


At Home Ideas
Autism
Games and Activities
Language Development
News
Speech Disorders