Great Speech and Language Charities to Support this Season
From my office in downtown Brooklyn, I can hear the not-entirely-rhythmic jingling of the Salvation Army workers and it got me thinking: this really is a season of charity. Since I and my wife tend to send a donation to a charity whose mission we strongly support, wouldn't it make sense to share some information about a handful of really great speech and language charities that I have come across in my career? Here are five great speech and language-focused charitable organizations that are changing the lives of the thousands of children they support. They are, in no particular order: Small Steps in Speech, Smile Train, donorschoose.org, the American Speech-Language-Hearing Foundation, and CASANA (Childhood Apraxia of Speech of Association of North America). Each of these charities has a noble mission and a track record of getting your charity dollars to their stated beneficiaries. As you consider who to give a holiday (or otherwise) charitable donation to, keep these charities in mind; they are helping children and adults all over the world improve their capacities to communicate. What better gift is there that the gift of communication?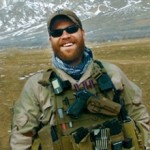 I first had the opportunity to meet Amanda Charney, the founder of Small Steps in Speech, back in November, 2010 at the American Speech-Language and Hearing Association (ASHA) annual convention in Philadelphia. She told me the story of her fiancé, Staff Sgt. Marc J. Small, a special forces medical sergeant, who died in February, 2009 heroically serving his country in Afghanistan. Marc was so supportive of Amanda's career and the impact she was having on so many young lives. She decided to found Small Steps in Speech, named in his honor, to help provide funding and other opportunities for children with speech and language disorders to get the resources and support they need to lead more successful social and academic lives.
The organization provides grants for therapy services or other resources (materials, software, devices) based on grant applications submitted by other parents, therapists, or other non-profit organizations. As you may know, not all children have access to therapy services, even though they may be in significant need of those services. Small Steps in Speech aims to fill that gap via their grants. Grant applications are reviewed quarterly by their Board of Directors for beneficiaries (who must be U.S. citizens) and may be submitted by parents or individuals, by therapists or by other non-profit organizations.
However, what really makes this organization continue to do the great work that it is engaged in are charitable donations. The donation page will guide you through the donation process. Interestingly, you may also use Amazon's Smile page which allows you select the charity of your choice (namely, Small Steps in Speech) and Amazon will donate 0.5% of your purchase to that charity. It doesn't sound like much, but this could be a few dollars for all your holiday shopping and you can still get all the great discounts and benefits you would normally get by shopping at Amazon.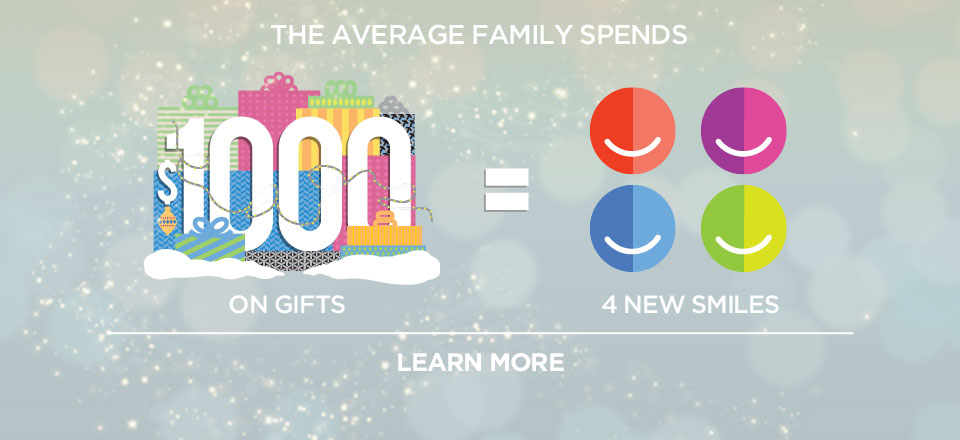 One of the most well known charities related to communication disorders is Smile Train. As the worldwide incidence of cleft palate and other craniofacial disorders is approximately 1 in 500 live births, this charity is addressing a huge global health need. In many developing countries, there is a significant social stigma associated with these congenital deformities, despite the fact that these deformities and their associated physiological consequences (e.g. disordered speech resonance and reduced speech intelligibility)are almost always highly correctable with the proper surgical intervention and subsequent therapy. However, many of these children simply lack access to the proper medical care and therapy interventions. Smile Train helps equip and fund local surgeons to better address cleft lip and cleft palate and to fund dental care and speech therapy. In addition, Smile Train is a give.org-accredited charity so you can be confident that the organization is transparent and efficiently providing the services they raise money for. Please visit the Smile Train Donate page to contribute to this worthy cause.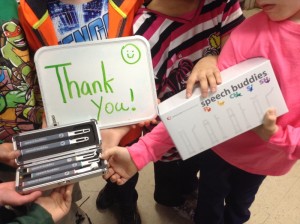 DonorsChoose.org is not a speech and language charity per se, but is one of the non-profit world's darlings and one that Speech Buddies has worked closely with in the past. Founded by former NYC public school teacher, Charles Best (who incidentally went to my high school and college and is a great guy), donorschoose.org uses a social media-type platform to connect teachers-in-need to motivated donors. The genius of donorschoose.org is its empowerment of donors; donors can scroll through thousands of projects posted by teachers in categories such as Books, Field Trips. Science and fund the project they believe in. The site discloses exactly how much each project is requesting and how the costs break down. In other words you know how much of your donation is going to the children, how much goes vendor fulfillment and how much goes to donorschoose (usually 15% of the project is tacked on to the total amount requested). The site has a number of very high-profile supporters, like Oprah Winfrey and Stephen Colbert and gets a rating of "A+" from charitywatch.org. We can vouch for donorschoose.org as a wonderful way to support schools around the country that are chronically underfunded; we also think the help you will provide there will really be a satisfying experience.
Are you interested in helping to fund crucial advancements in the field of speech-language pathology? If so, you should consider a donation to the American Speech-Language-Hearing Foundation (ASF), the charitable foundation of the ASHA, the governing body of our field. Founded by one of the grandfathers of modern speech pathology, Wendell Johnson, ASF foundation has given over $6 million in its history to help fund research that would ultimately better the lives of all who are dealing with communication disorders. The organization also provides scholarships for young people showing outstanding academic promise in communication sciences and disorders as well as awards for career achievements in clinical speech-language pathology.
To donate to the ASF, please visit their home page and click the orange "Make a Donation Today" button, or visit their Donation page.

Childhood apraxia of speech can be a debilitating and highly complex disorder, from both a clinical and a family support standpoint. CASANA (Childhood Apraxia of Speech Association of North America) provides comprehensive, often peer-moderated information about childhood apraxia of speech for both parents and speech-language pathologists (SLPs), as well as professional development opportunities for SLPs. CASANA also funds clinical research into apraxia of speech and is at the forefront of promoting new and improved therapy methodologies for treating childhood apraxia of speech, and has on its Professional Advisory Board some of the leading experts in the field. The organization has a reputation for transparency and for being efficiently run; it was started by a motivated parent, Sharon Gretz, whose mission it became to empower other parents about this often confounding and deeply frustrating challenge. If you're interested in furthering the mission of a sterling charitable organization, then I would recommend you consider a donation to CASANA via their Donate page.
$15 to the Speech Charity of your Choice
All five of the charities featured in this blog post would be worthy recipients of your hard-earned dollars. To show our commitment to the charities featured above, through December 2014, we will donate $15 of every Speech Buddies Tools purchase to your choice of the following organizations. Simply use the accompanying promo code below at checkout:
Small Steps in Speech – SSIS15
Smile Train – ST15
American Speech-Language-Hearing Foundation – ASHF15
CASANA – CASANA15
(We have excluded donorschoose.org simply because of the mechanics of donating on their site.) Also, as I highlighted in the paragraph above on Small Steps in Speech, remember that every time you use amazon.com, consider using their Amazon's Smile page. Why not? It's the same amazon.com experience, but with a few extra dollars per year going toward that charity you believe in. Thank you for considering a donation to any of these great charities – it really can make a huge difference in the life of someone living with a communication disorder.


Speech Therapist