Finding a Brooklyn Speech Therapist
I am proud to announce that our full-service speech therapy plan is available to parents in Brooklyn, New York, my hometown. We are good at technology: we've harnessed the best in medical device technology to really revolutionize the treatment of speech and articulation challenges with Speech Buddies Tools. But recently we have developed a unique means of matching parents in need of services with great local therapists and we're launching in—fuhgeddaboudit—Brooklyn! The need for private speech services is widespread and covers a variety of speech and language challenges. This post is dedicated to helping you match your family's unique needs with both the expertise of a local Speech Buddies therapist and your family's budget. Whether your child is 2 years old and in need of a boost in language skills, or a middle-school student who could use some extra academic support, our plan is the perfect place to start. Below I will walk through several of the most common reasons you, a Brooklyn parent, might be searching for a great Brooklyn Speech Therapist.
Photo: Neighborhood Kids by Walter
Articulation Challenges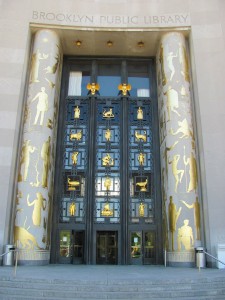 The New York City Department of Education generally ascribes to the educational model of intervening with speech intelligibility challenges. In the school-age years (kindergarten and up), they typically will only cover (i.e. provide and pay for) these services if the child's challenge is very severe and/or directly interfering with the child's academic development. So if your child is otherwise doing well in school but is having persistent difficulty saying the R or S sound correctly, for example, then you are not likely to have this challenge treated by your child's school-based staff therapist. Unfortunately, this leaves many families in a difficult situation: they are committed to helping their kids but are faced with the significant costs of treatment. That's where Speech Buddies come in to help Brooklyn families out. We primarily offer home visits—yes, the therapist will come to you!—at highly competitive rates as well as bulk session discounts to allow you to maximize your budget. Also, we are pleased to offer complimentary (yes, free!) Speech Buddies Tools upon evaluation/screening if your Speech Buddies therapist feels these effective, evidence-based tools are indicated in your child's case. Simply choose a Brooklyn speech therapist and click the "Book Now!" button.
My Child Didn't Qualify for Early Intervention but Still Needs a Language Boost
One very unfortunate consequence of the 2008-2009 financial crisis is that state budgets, particularly for education and mental health/child development, took a huge hit. This was certainly true of my home state, New York. Many Early Intervention (EI) programs saw their funding sharply cut. Since then, matters have improved somewhat, but in general, the standards for qualification applied during the financial crisis have stuck—it can simply be much harder to qualify for these vital services. A child needs to be roughly two standard deviations below the mean in speech and language skills, which, in statistical terms, equates roughly to the 5th percentile. What if your child comes in at the 15th percentile? What if your child understands language well but is quite far behind peers in expressive language? In both of these cases, EI would likely not provide help for your child. Obtaining help early makes such a difference so many of our Brooklyn therapists have extensive experience with the birth to 3 years of age population. That early boost to a child's language skills can have a profound and life-long impact on academic and social development.
My Child Is Waiting on a Board of Ed. Evaluation and/or Services
When a pre-school child (ages 3 to 5) is referred to my practice, I don't hesitate to inform them of what's known as CPSE (Committee on Preschool Special Education), which is shorthand for free services provided by the, in my case, New York City Department of Education. Generally speaking, CPSE is much more accommodating and will cover a wider range of speech and language challenges. So, for example, while school-age kids will often not have their articulation challenges covered by the local school, CPSE is much more likely to step in and provide those services. This is wonderful news for families. However, the catch is that:
it can take up to 6 months or more (!) from when a parent first identifies a concern in his or her child to when services actually commence.
By contrast, a parent can secure an appointment with one of our therapists within a day or two and in no more than a business week. I won't go into the gory details of exactly why this public, CPSE process takes so long, but will say that many families will very prudently seek interim private services as you wait for this process to unfold. If this describes your family situation, where possible I would highly recommended this private route, if only temporarily. Your therapist will screen or evaluate your child and determine the highest priority goals to address and in some cases (routinely in my practice) help you navigate the often complex Dept. of Education evaluation process.
My Child is Receiving Services in School, but I Think Needs More Help
Whether your child attends a public or private school, supplemental private services may be the best move for your child's academic plan. Given personnel and budgetary constraints, many public school mandates for speech and language services, according to a child's (IEP) Individualized Education Program are not enough to adequately serve that child. The standard mandate is usually two 30-minute sessions per week, delivered in a group of 3. That means for your child's precious hour per week with his or her therapist, that therapist's attention is divided by three. Depending on the needs addressed in his or her IEP, additional services may be warranted. This becomes especially true when the demands of school ramp up significantly with regard to expectations in narratives and writing expression and keeping organized. These "executive functioning" skills are indeed extremely important to kids' academic success and can be somewhat subtle in how they present and how they should be addressed by a therapist. A consultation and potentially a directed therapy program with one of our great therapists could be a great boon to your child's overall plan.
The team here at Speech Buddies is incredibly excited to provide this valuable service to Brooklyn families. We believe there is such potential harnessing technology to make the process of finding a great local speech therapist easier and less stressful, and also to make the therapy process itself more efficient and effective. Many insurance plans offer out-of-network benefits that my Speech Buddies Therapists are able to take advantage of. So, I would strongly recommend that parents investigate this option. However, whatever your insurance situation, rest assured that this program has been designed to provide Brooklyn families the best possible value for such a vital service.


Financial Resources
Speech Therapist