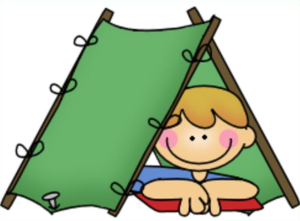 Got the Tent? Check!
Got the Sleeping Bags? Check!
Got the Bug Spray? Check!
Got the Speech Therapy Activities? Check!
Wait a minute, speech therapy camping activities? This summer, while planning your camping trip, why not use this quality family time as an opportunity to work on speech therapy skills. Board games are an excellent way to reinforce good speech and language habits and are easy to pack along, but you may also want to take advantage of the outdoor game board! The sights, sounds and smells of good ol' fashioned camping! A recent article in Parents Magazine touted the many benefits of camping, including helping children become more environmentally conscious, and reducing symptoms of boredom and ADHD.
"Kids today are spending more time indoors and plugged into a screen, so camping is a great activity because it gets them outdoors, whether they're hiking or telling ghost stories by the fire,"
says Meri-Margaret Deoudes, spokesperson for the National Wildlife Federations's Be Out There initiative, which encourages kids to get outside.