Are Tactile Tools for Speech Therapy An Effective Option?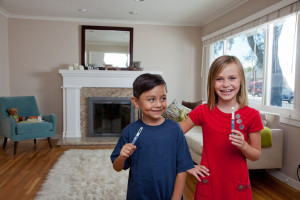 Our in-depth look at tools for speech therapy turns toward non-traditional speech therapy methods today. We have touched on terrific apps for families and children with articulation disorder and sites and resources for SLP's looking to incorporate technology into their practice. Another piece of speech therapy worth discussing are hand-held, tactile tools. Hand-held items are often effective tools for speech therapy. Tactile tools target a range of skill sets from fine and gross motor, articulation, voice and stuttering, listening and sensory skills. Tactile tools allow kids to practice speech sounds, provide appropriate sensory options and can be used in any setting, whether it be home, at a speech therapist's office or even at school.
Peanut Butter, Straws, Whistles…Say What?
What about that old wives tale about using a straw or a whistle as a speech therapy tool?  Yes, sometimes people turn towards these devices to help their child learn to articulate properly. But, these items are not scientifically proven as effective speech therapy tools. Sure they may be inexpensive and easy to find, but they are not meant to help your child overcome his speech disorder. Instead, look for proven specific tools that  help teach a child correct tongue placement. This is where Speech Buddies can be an excellent option. Speech Buddies provides a specific target so students can feel and hear exactly how to pronounce sounds. While we still recommend you visit your pediatrician or SLP first, these tools are effective treatment options to use at home or in conjunction with your speech therapist to help address speech disorders.
Hand-held tools:  Speech Buddies help any type of articulation disorder. These tools teach the correct tongue positioning for five of the most difficult sounds, R, S, L, CH and SH. Designed by a team of expert speech-language pathologists and engineers, the tools have been tested in numerous clinical studies and each time were found to fix speech problems quickly. The best part? They can be used at home, school, in conjunction with your speech therapist or in any setting.
Speech Buddies tools have been proven effective when used three times per week in 10 to 15 minutes sessions. In addition to the tools themselves, Speech Buddies comes with free online games to make the learning process fun. When you look into the Speech Buddies, you will find tools and options for helping to choose the proper tool for your child. Interactive questions and expert advice are at your fingertips.
So, the bottom line is yes, there are tactile "tools" out there that claim to help with speech therapy. But why try one of these household items on your child when you are not sure of the results? And, you don't want to take building speaking and language skills lightly, as these set up your child for success in the future.
Visit Speech Buddies Educate for more information on speech challenges or download Speech Buddies' Free eBook: A Parent's Guide to Speech & Communication Challenges to help understand your options.


Apps
Articulation Disorders
At Home Ideas
Parents' Corner
School
Speech Disorders
Speech Therapist
Speech Therapy Techniques