Tips for Speech Delay in Children
How can you tell if your child has a speech delay? And what can you do about it? We get a lot of questions from parents and caregivers about identifying and treating speech delay in children. First, we want to commend you for taking the time to research this important topic! The more you understand about speech and language development, the sooner you will be able to recognize any sort of speech delay and get back on track.
First, it's important to understand that a child's speech and language development is continually evolving. Professional speech-language pathologists use age-based developmental milestones to assess whether or not a child is at a developmentally appropriate level. Take a few minutes to familiarize yourself with these milestones as they relate to your child's age and stage. If you do believe that your child may have a speech delay – or even if you just want to work on developing communication skills at home – here are our top tips:
1. Reading Helps Speech Delay
Children are so inquisitive and love to explore ideas in books. Around the age of 18 months, you can begin letting your child pick the books that he or she wants to "read." Don't worry if it's the same book over and over again. While this might get boring and repetitive for you, your child benefits from reinforcing the same concepts. Read and read often! Your child will benefit from hearing new words and listening to the cadence of how stories are told.
These are our favorite books for speech delay in children: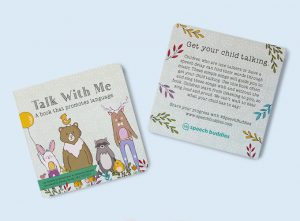 Talk With Me – Designed for children with speech delay or early talkers. This book uses popular nursery rhymes to encourage first words. Helpful hints guide parents along the way.
By Kimberly McCollister & Adrienne Penake. Reviewed by Kelsey Bailey, M.S. CCC-SLP.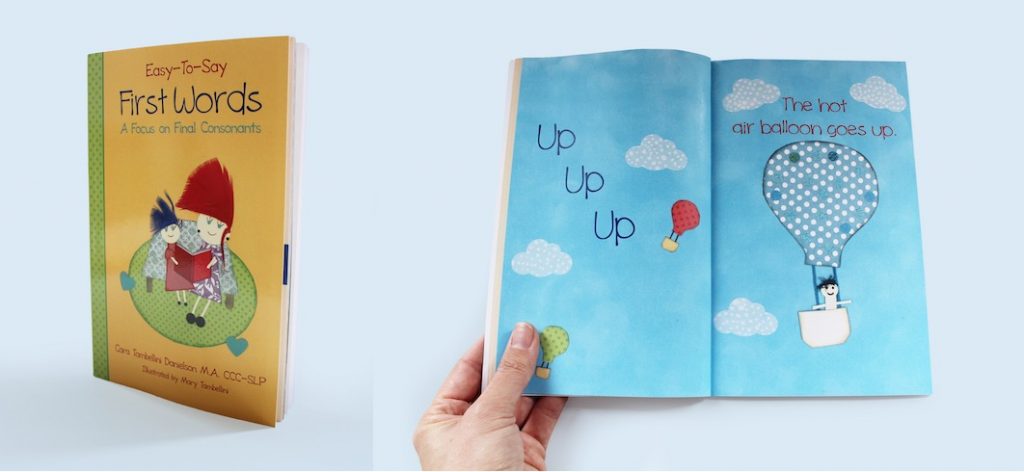 Easy-To-Say First Words – by Cara Tambellini Danielson, CCC-SLP
Designed for parents concerned with speech delay. This books exposes your child to final consonants and encourages first words. Helpful to encourage talking through easy words, cute photos and repetition.
2. It's not enough to "just read"
Ok, here's a good one that seems to directly contradict #1. In addition to reading, you also want to make your child an active participant in the story. Sit with your child's favorite book, point to the pictures, and ask your child what they see happening in the story. It doesn't matter at all what they respond, or whether or not you can understand them. You want them to inquire and wonder and begin trying to communicate with you. Don't try and use these times as a chance to "correct" or refine your child's interpretation. You just want to get them talking.
3. Sing! Songs for Speech Delay
Even if children can't speak fluently, they might be able to express themselves through music and singing. Sing "Twinkle, Twinkle Little Star", or "Rain, Rain Go Away." Pause at the end of the line and see if your child can fill in the next word. See if they will sing with you. And then celebrate! Any utterance is great progress.
If you do suspect a speech delay:
By the age of two, children who are not meeting developmental milestones very well may have a speech delay. At this point, seeking professional help from a certified speech-language pathologist in your area is warranted. You'll want to ask about screening for any medical conditions that may be interrupting speech development and get professional help in treating your child's speech delay.


At Home Ideas
Games and Activities
Language Building Skills
Language Development
Parents' Corner
Reading
Speech delay