Earth Day is almost here! Teaching your child to be eco-friendly can help them become aware of their environment and how they can make a difference in the world. Below are some fun suggestions for Earth Day activities for children for you to consider at home or at school. There are many children's books that help children understand what it means to be eco-friendly and what Earth Day is all about. The Lorax by Dr. Seuss is a great children's book that address environmental issues in a creative way. Other books to consider are The Giving Tree by Shel Silverstein and The Earth Book by Todd Parr. PBS Kids has several other "green" reading ideas to share with your kids.
If you do end up reading The Lorax with your kids, follow it up with an art activity about planting a new tree! You can make your own tree, either through cutting out then gluing the pieces together, or drawing all the parts of the tree, from root to trunk to leaves & fruit or flowers. It's a fun activity both you and your little one can do together and let your imagination run.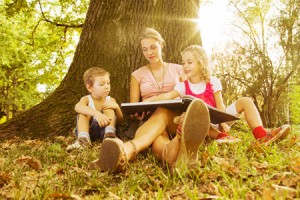 Another fun craft idea from Powerful Mothering is making a feather and pom pom tree. This activity is good for fine motor skill development in youngsters. Using piper cleaners and pom poms, your child can make their own truffula trees! The steps are simple and easy to follow.
And if your child is interested in getting down and dirty and planting a real tree, check out MillionTrees NYC. Here you can sign up to plant trees all over NYC or request a tree to be panted in your neighborhood. This is great way to get the whole family involved and discuss how trees are important to our environment, both locally and globally.
Additional Earth Day theme activities your child may enjoy include:
Super Simple Nature Prints: For this next activity, taking a nature walk or short hike with your child will be very helpful. While walking through the park, have your child gather and collect flowers, acorns, twigs, leaves, tree bark etc. Once you have gather all those things, you and your child can make nature prints using clay or play-doh.
Another eco-friendly activity that your child will love is building with recyclables. The possibilities are endless in what your little one can make by using egg cartons, plastic bottles, etc. Let your child build robots out of paper towel rolls or spaceships out of milk cartons. Want to be more creative try doing this activity- Fine Motor Play from Recyclables.
Local Earth Day activities for children in NYC:
Earth Day in Prospect Park (April 17) – There will be lots of fun interactive activities for the whole family to enjoy.
Earth Day New York 2016 at Union Square (April 17) – An annual event held at Union Square where you can enjoy live performances and interactive displays.
Arbor Fest (April 24) – Visit Queens Botanical Garden and enjoy various activities which include live music, face-painting and much more!