Protect Your Child's Hearing – "Listen to Your Buds"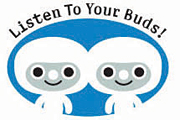 In celebration of  Better Hearing and Speech Month, we'd like to shine a light on the ASHA campaign called "Listen to Your Buds".  This public education campaign is aimed at preventing noise-induced hearing loss by helping parents teach their children how to use personal audio technology in a safe manner.  These safe habits include turning down the volume on iPod and MP3 music players, and taking breaks when listening to personal audio technology to help avoid damaging effects that may cause hearing loss.
The ASHA reports that, "84% of all parents polled say they are concerned that misuse of personal audio technology is damaging the hearing of children" according to results of an online poll commissioned by American Speech-Language-Hearing Association.  What exactly is noise-induced hearing loss?   This type of hearing loss occurs when the sensors in the inner ear are damaged by sounds that are too loud or last too long.  This condition happens over time, without pain. Children, in particular, are particularly vulnerable to noise-induced hearing loss. Noise-induced hearing loss is permanent, but preventable. In fact, a study published in the Journal of Pediatrics and ENT Today showed that 12.5 to 16 percent of kids from the ages of 6-19 have noise-induced hearing loss. That's nearly 6 million children!
What can you do to protect your child's hearing?
Limit exposure to noisy environments, such as a loud television or loud music in ear phones.
Have your child wear ear plugs when exposed to sustained loud noises such as the lawn mower or around power drills and saws.
Do not let your children play their noisy toys right next to their ears. Rule of thumb – if you think the toy is too loud, then it will be for your child.
If your child's favorite toy happens to make noises, consider placing a piece of tape over the speaker to control the volume.
If you have older children, make sure to monitor how often and how loud they are listening to music.  If your children are younger, the Department of Defense Hearing Center of Excellence has published a Noisy Toy List, outlining the decibel level of a number of popular children's toys.
What else can you do to help or join the "Listen to Your Buds" campaign? Check out the campaign website, or find ASHA on Facebook for free activities, promotions and downloadables.  For more information about hearing loss, check out this Speech Buddies article on the types and degrees of hearing loss.


Hearing Loss
News
Parents' Corner