Paying for Hearing Aids
There's no denying that we've been through some difficult economic times lately, with no real end in sight. Families across the country and worldwide are worried about everything from their grocery expenses to their car payments. Families of children with speech disorders and other special needs face the additional burdens of financing speech therapy sessions, occupational therapy sessions, and anything else that the child needs to succeed. If you have a child with hearing loss, you probably already know how expensive hearing aids are. One hearing aid can cost from $1,000 to $6,000. If your child has hearing loss in both ears, you can multiply that figure by two. And don't forget about repairs and replacement costs. Check below for some resources that may help you pay for your child's hearing aids.
State Programs for Hearing Aids
Call your state's early intervention or special education program and ask about hearing aid loan banks. These programs provide hearing aids to children on a temporary basis while other financial arrangements are being made. As well, check your child's Individualized Education Program (IEP) or Section 504 plan. Your child may be eligible for hearing assistive technologies while in school, such as frequency modulation systems. His school is also responsible for ensuring the proper operation of his hearing aids while in school.
Health Insurance & Flex Spending
Shockingly, hearing aids are officially considered to be elective, just like cosmetic surgery. Only 19 states have mandated that insurance companies must cover hearing aids. While you're waiting to hear back from the hearing aid loan bank, check your family's insurance policy. If it does cover hearing aids, look for restrictions. Some insurance plans might only cover the cost of an exam, not the actual devices.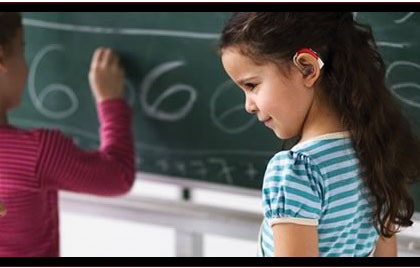 Other options are Flexible Medical Spending Plans and Health Savings Accounts. You may open a Health Savings Account if you have a high-deductible insurance plan. Designating a portion of your income for that account provides tax advantages. Your employer might sponsor a flex spending plan, which also offers tax savings.
Resources & Organizations
You can also turn to charitable organizations for help paying for your child's hearing aids. Check out this list of resources below.
Hear Now is a program that was established by the Starkey Hearing Foundation. The program donates the hearing aids. Hear Now also partners with healthcare professionals throughout the U.S. who are willing to donate their time and services to fit the hearing aids. Note that Hear Now prefers to assist those with no other help available to them.
Sertoma is an organization devoted to hearing health. In addition to their hearing loss education program, they also offer refurbished hearing aids to those in need with their Sertoma Hearing Aid Recycling Program (SHARP). Unfortunately, this program is not available nationwide. Check the website for the list of participating clubs.
Miracle-Ear Children's Foundation
Miracle-Ear is a hearing aid manufacturer. Their Children's Foundation provides hearing aids and support services at no cost, provided your family meets the eligibility criteria. With your application, send a dated physician's medical clearance and an audiogram dated within the last six months, along with a copy of a rejection notice from your health insurance company or other organization. Check the website for more requirements.
This well-respected service organization is committed to providing assistance for the hearing impaired. The services that may be available to your family will vary, depending on your local branch's policies. There are about 46,000 local branches of Lions Clubs. Use the club locator tool on the website to find one near you.


Hearing Loss